So today was the last day of school for numbers one and two. Three has to go to his one-day-of-school-a-week all through summer and he is less than thrilled.   "I not go to school anymore! I  done too!", he insists. I insist that he is going because mommy has to pay whether he is there or not.
I went in to get Evan from his class. I now know to go in as much as possible while they are still not embarrassed to see me. Things you don't know with the practice first child. As I walked down the hall to his class (the verrryyyy last one in the hall), I peeked into the other classrooms. It struck me how each teacher's personality was shining through, even in the waning minutes of the school year.
One teacher was sitting in a chair reading a book. All the littles were surrounding her and hanging on every word she said.
Another had put all her kids to work, moving chairs and getting the room organized.
Two doors were closed. One had much noise behind it and another had none. Quiet children make me nervous.
My child's class was having a good time. They were getting books put away, grabbing their bags and their teacher was having them line up one last time. Some were hugging her and one was still crying. Yes, still. Others were hugging others and it was definitely what I remember about the last day of school.
Evan loves his teacher. Loves her.  In fact, I think he would have sabotaged his grades to stay with her if he would have thought of it earlier in the year. We said our goodbyes and made our way down the hall to have the secretary call Michael up to the front. I knew not to surprise him by showing up at school unannounced. That did not work out so well the last time.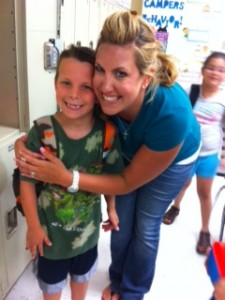 Ideally I would have liked to thank Michael's teachers also. All of these women have invested in my children this year and made the transition to a new school so easy. I was so nervous for my boys changing schools again. Poor Michael has not been at the same school longer than 2 years. But you know what? He and Evan have been blessed with the most amazing teachers, each step of the way. They have made a positive impact on my children and for that I am so grateful.
So, here we are! It's finally summer. We have already made a trip to the pool. We will have tacos and smores and more pool time tonight. It is hot and wonderful and we are all elated.
I hope each of you have a safe and fun summer. Hopefully all the extra time with the boys will inspire me to write more in the future weeks. Life sure is more fun with them at home.